UCC Bucket + Grit Guard Combo
|
UCCBUCKETCOMBOWASH
$39.95
Inventory Availability
UCC Bucket + Grit Guard Combo
Heavy Duty 20L Bucket
Our 20L Heavy Duty Bucket is the perfect complement for Grit Guards and will provide a lifetime of use. Unlike cheaper buckets, ours will not crack, snap, break and are extremely durable and high quality. We're certain once you buy one, you won't need to buy another for life.
Available with either 'Rinse' or 'Wash' sticker.
Grit Guard
Grit Guard bucket inserts are one of the best ways to help with your wash routine. A Grit Guard works by trapping dirt and debris at the bottom of your bucket; keeping it down and stopping it from re-entering your wash water. In turn, this can help to stop swirls and scratches from developing in your paintwork due to the reduced introduction of grit onto the paint surface.
The four fins at the bottom act as blockers to stop water from swishing around, this in turn keeps the grit and dirt down in the bottom of the bucket.
Made from extremely durable plastic, a Grit Guard will last a lifetime and is an extremely good value investment in your wash regime.
QTY: 1x Heavy Duty 20L Bucket + Grit Guard
New Zealand Standard Shipping
Flat Rate NZ Wide - $9 (Fastway Couriers) or $14 (Post Haste)
Orders Over $150 - Free Shipping (Fastway Couriers)
North Island 1-2 Working Days
South Island 2-3 Working Days
Australia
Calculated At Checkout
10-20 Working Days
Fiji
Calculated At Checkout
10-20 Working Days
In-Store Pick Up
33 Walls Road, Penrose, Auckland
In-Store Purchasing
33 Walls Road, Penrose, Auckland
7B Birmingham Drive, Middleton, Christchurch
Standard Payment Options
VISA, Mastercard, American Express
PayPal Express
POLi Internet Banking
Manual NZ Bank Transfer
Q-Card Accepted
OxiPay

Buy Now, Pay Later
4 Fortnightly Payments
No Interest, No Fees When Paid On-Time
Oxipay Up To $1000 Of Your Order (Maximum Order $1500)
Afterpay
Buy Now, Pay Later
4 Fortnightly Payments
No Interest, No Fees When Paid On-Time
In-Store Payments
VISA, Mastercard, American Express
Cash
Q-Card
Oxipay
Afterpay
---
Customer Reviews
Write a Review
Ask a Question
Filter Reviews:
water
rain
size
towels
dirt
delivery
bucket
selection
supplier
worst
06/06/2020
Carl N.
New Zealand
Great Sturdy Bucket
Bucket and grit guard very easy to use , nice and strong and even better when there half price ! Thanks Sam
05/12/2020
Caitlin C.
New Zealand
10/10
Awesome product - it does its job perfectly. It's the best quality bucket and grit guard I've owned, I'm looking forwards to using it for years to come.
05/10/2020
vdub_pete
New Zealand
Buy 2!
Anybody who's not currently washing there car with the two bucket method you should be! I was sceptical at first but the results speak for themselves this photo was the water in my rinse bucket after washing my car that had been driven around for one week with a few days of heavy rain. Bare in mind this was also after a good water blast and snow foam to remove the worst of the dirt. I honestly couldn't believe how dirty the water was! Thanks UCC great service as always :)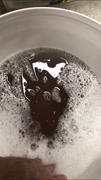 03/22/2020
Ben
New Zealand
The perfect addition
Don't get your buckets confused! These are sturdy and feel like they will stand the test of time. A great investment and the perfect size.
02/23/2020
Brent M.
New Zealand
Grit Guards a MUST!
At first I must say I was sceptical about whether or not these buckets with grit guards were worth it and if they would catch and trap any dirt and grit but now I've seen that they certainly do, I wouldn't wash a car without them. A great investment if your protective of your paint and want to reduce scratches and defects.