Optimum No Rinse Wash & Wax (Rinseless Wash)
|
OPTINRWASHWAX400
$24.95
Inventory Availability
Optimum No Rinse Wash & Wax (Rinseless Wash)
We have taken the No Rinse formula to the next level with Optimum No Rinse Wash & Wax. Optimum No Rinse Wash & Wax combines the polymer technology behind No Rinse Wash & Shine, and combined it with the patented UV protection from Optimum Car Wax. Optimum No Rinse Wash & Wax is the most technologically advanced car wash system to date, that requires just a single bucket of water to wash an entire car. Optimum No Rinse & Wax (as the name suggests) does not require rinsing with a hose since there are no soapy surfactants to wash off into the storm drains. The added carnauba wax provides weeks of UV protection. This unique product contains substantive polymers that bond to the paint and protect it from abrasion during the wash. These polymers offer greater protection and lubrication than conventional car washes and leave a slick and glossy finish behind afterwards. The waste water in the bucket can be used to water the lawn or disposed of into a sink, where it will be treated. Other additional benefits of No Rinse Wash & Wax are faster washes, the ability to wash and wax anywhere at anytime including washing inside the garage during winter, no messy runoffs, and a better looking finish. These are just some of the reasons No Rinse Wash & Wax is being used by many people across the world, saving millions of litres of water every year.
To see how to perform an effectiveless waterless or rinseless wash click here.
Add 30ml of Optimum No Rinse™ Wash & Wax to 7.5L of water in a bucket. Soak a plush microfiber towel into the wash solution and wash one section at a time till it is completely clean. Dry the section using a clean plush microfiber towel.
New Zealand Standard Shipping
Flat Rate NZ Wide - $9 (Fastway Couriers) or $14 (Post Haste)
Orders Over $150 - Free Shipping (Fastway Couriers)
North Island 1-2 Working Days
South Island 2-3 Working Days
Australia
Calculated At Checkout
10-20 Working Days
Fiji
Calculated At Checkout
10-20 Working Days
In-Store Pick Up
33 Walls Road, Penrose, Auckland
In-Store Purchasing
33 Walls Road, Penrose, Auckland
7B Birmingham Drive, Middleton, Christchurch
Standard Payment Options
VISA, Mastercard, American Express
PayPal Express
POLi Internet Banking
Manual NZ Bank Transfer
Q-Card Accepted
OxiPay

Buy Now, Pay Later
4 Fortnightly Payments
No Interest, No Fees When Paid On-Time
Oxipay Up To $1000 Of Your Order (Maximum Order $1500)
Afterpay
Buy Now, Pay Later
4 Fortnightly Payments
No Interest, No Fees When Paid On-Time
In-Store Payments
VISA, Mastercard, American Express
Cash
Q-Card
Oxipay
Afterpay
---
Customer Reviews
Write a Review
Ask a Question
Filter Reviews:
results
dirt
foam
hope
blast
rinse bucket
water restriction
power wash
change
drama
07/09/2020
Stuart D.
New Zealand
Used due to water shortage and absolutly love it now.
Fantastic product that leaves an amazing glossy shine.
06/27/2020
Ben
New Zealand
Who needs a water blaster?
I'd been putting off washing the car in the hope that Auckland's water restrictions would end, but couldn't stand a dirty car any more. The Optimum Rinseless Wash and Wax does what it says on the tin and is super easy to use. Very happy with the result. I didn't think the car was that dirty till I saw the rinse bucket at the end...
05/30/2020
Nathan F.
New Zealand
Rinseless wash
Very pleased with the results.. if I have a clean car with little dirt this is so quick and easy to do
05/27/2020
Don M.
New Zealand
Impressive
This product is designed for these times of water restriction and although I miss the blast, and foam and wash it's a realy effective alternative that I think I'll use regardless of water restrictions for those times I just want the full shine back but doesn't justify the full power wash treatment.Its actually quite a nice change to the noise and drama of the usual and produced an easy clean and shine that was impressive. I used an honest two bucket wash and recovered a huge amount of dirt from the rinse bucket.When all finished used what was left on wheels, really slippery and came up gleaming.30mls of product in 8 litres and a rinse bucket.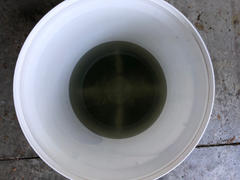 05/25/2020
Paul S.
New Zealand
Water restrictions don't matter.
Works great!