How To: Exhaust Polishing
24th September 2019 • Sam Gibbons • Exterior Care
---
There's nothing worse than spending hours and hours on the outside of your car - only for the exhaust tips to let down the whole appearance. Over time carbon deposits, tar and road grime leave exhaust tips dirty and lacklustre - so we're going to show you how to fix that!

Time: 10-20 minutes
Difficulty: 3/10
Today's Vehicle: Ford Focus RS

Products Used:
- ValetPRO Citrus Tar & Glue Remover
- Menzerna Metal Polish
- Gorilla Nitrile Gloves
- UCC Steel Wool #0000
- UCC Black Hybrid Detailing Towels
---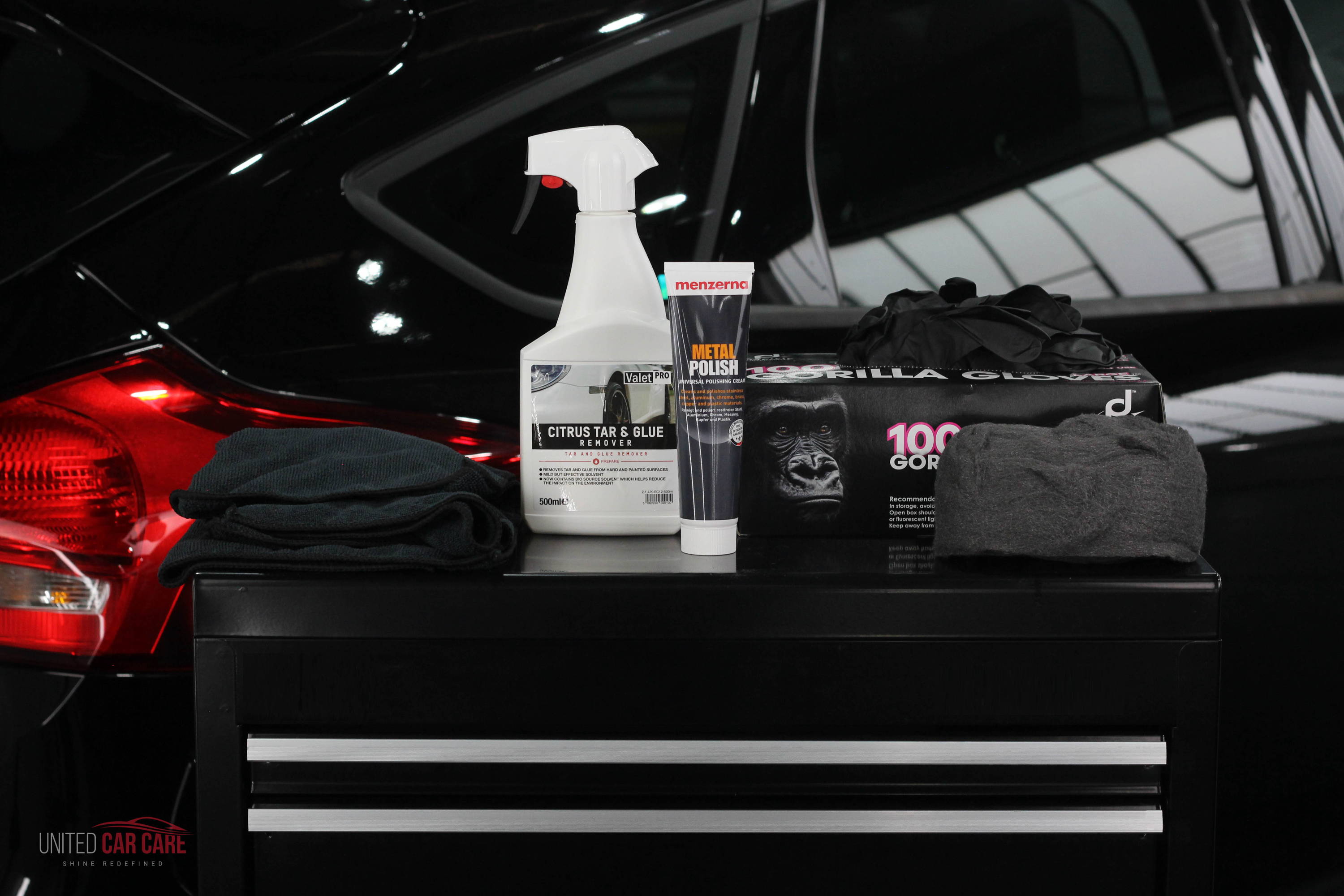 When polishing your exhaust tips you need to remember that there are two main 'steps' to perform. Firstly you should thoroughly clean and decontaminate to remove dirt, tar and light carbon. Only then should you start to polish. We often see the cleaning and decontaminating step missed which can lead to scratched metalwork and lacklustre results due to then grinding tar and other loose contaminants in with the metal polish and/or steel wool.

This Ford Focus RS has lightly contaminated exhaust tips - and so we do not expect this particular vehicle to present any big challenges. Remember that for vehicles with heavier contamination and grimy tips you may need to take our example below and add a bit more elbow grease and a tad more time 👌😀
Click on the photos in this guide for an enlarged view.
---
1) During the wash down process - give your exhaust tips a rinse down with your hose or pressure washer; and if possible use a snow foam or pre-wash solution. You want to use this opportunity to take as much of the light grime off as possible in the wet wash stage. Don't point the water straight up the exhaust!
We recommend using nitrile gloves for this next step to avoid contact with chemicals and also getting your hands filthy!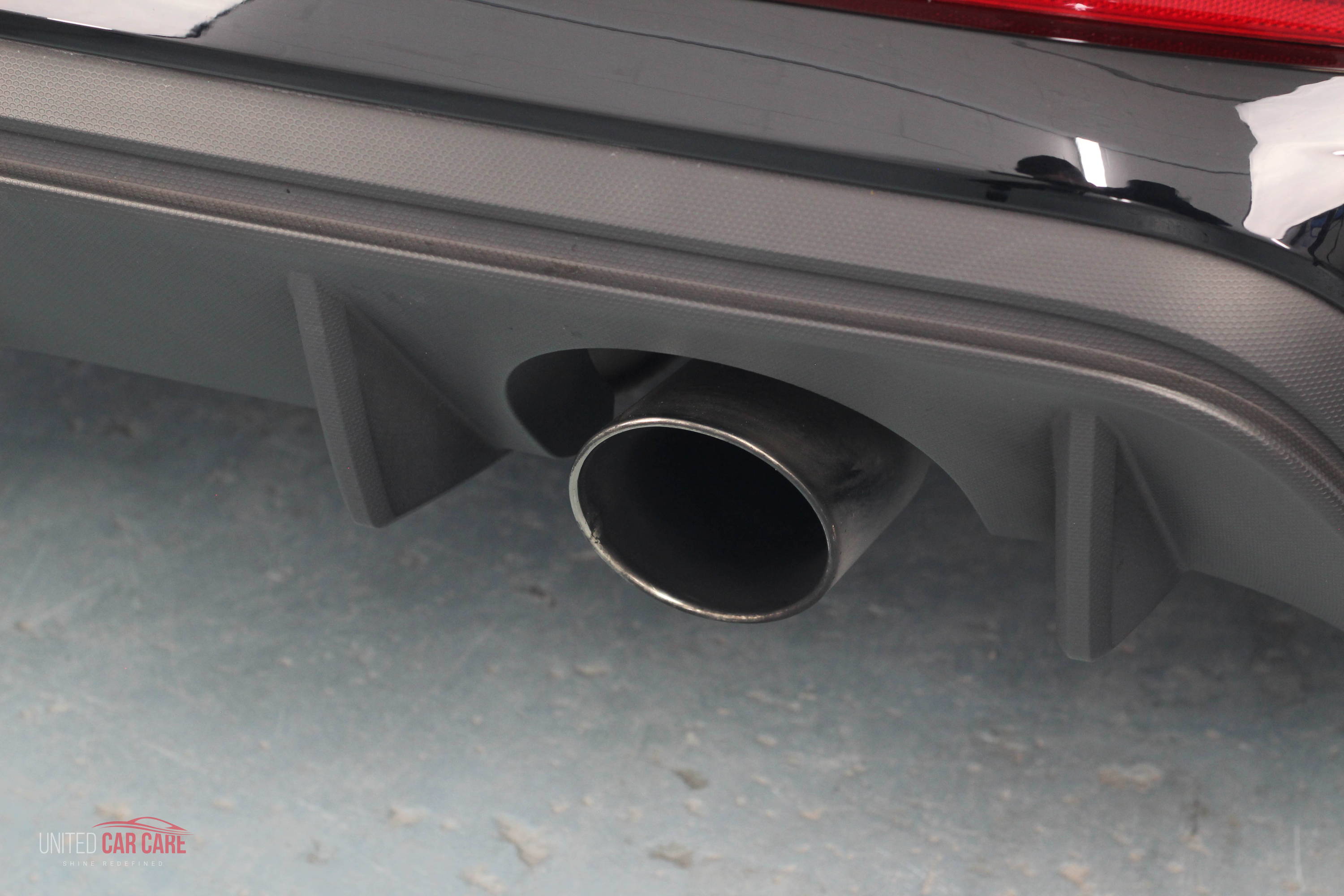 Exhaust Polishing: Before Photo
2) Once the tips are dry, remove the tar spots and surface grime by spraying the exhaust tip thoroughly with ValetPRO Citrus Tar & Glue Remover.
Wait for around 1-2 minutes before wiping off residue with the UCC Hybrid Detailing Towel. If spots still remain repeat the process.
By removing the tar spots first you avoid the risk of causing surface scratches as a result of rubbing tar onto the metal.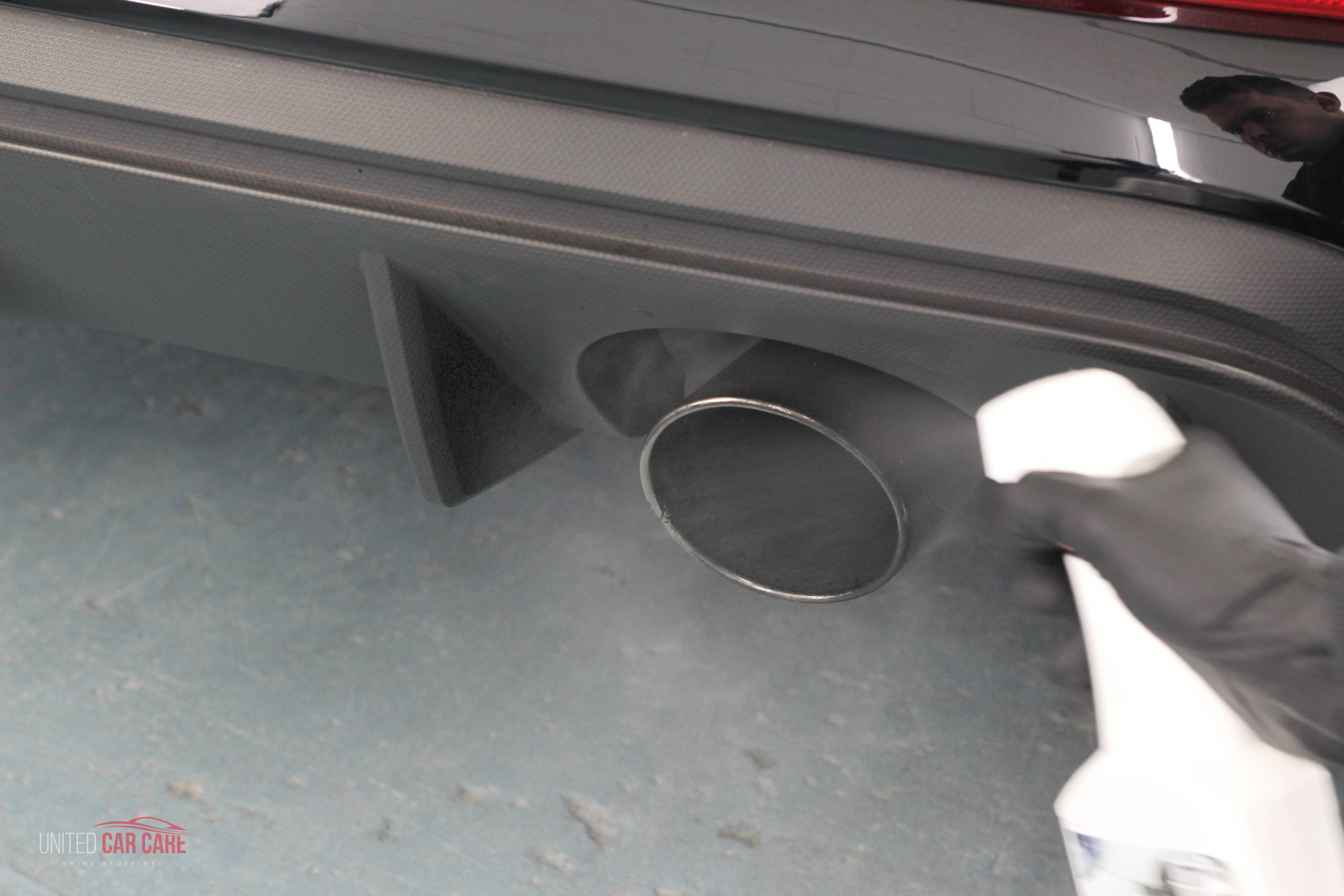 Exhaust Polishing: Decontaminate & Clean
3) Once clean and decontaminated it is time to polish. First rip off a small piece of steel wool - and apply a good amount of Menzerna Metal Polish to it (see photos for indication). Start by ensuring you spread the metal polish around the surface of the exhaust tip and using light pressure buff it around all areas of the exhaust tip; ensuring that the product doesn't dry up. If the metal polish dries up use a bit more until you have thoroughly buffed all areas of the metal.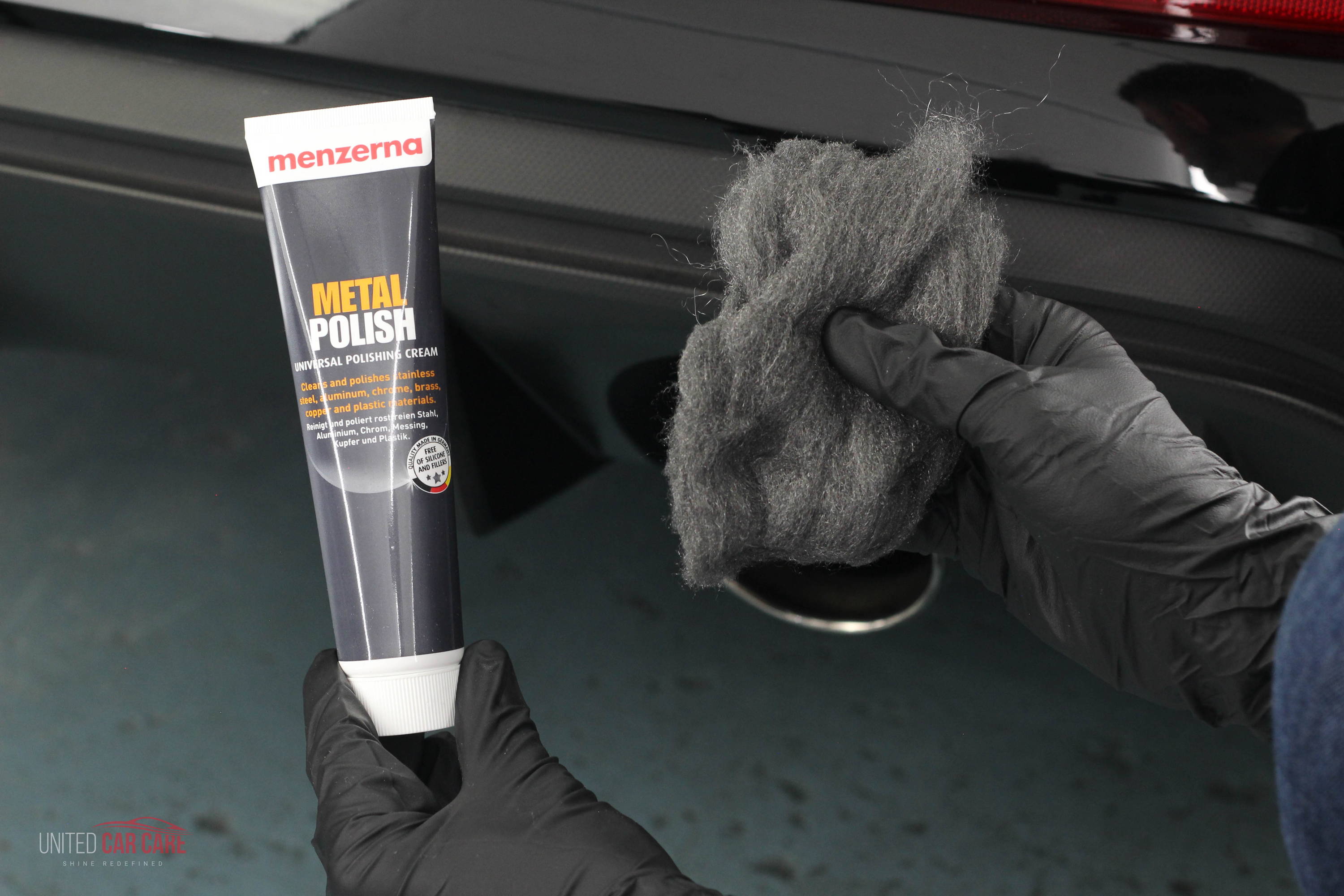 Exhaust Polishing:
Steel Wool & Metal Polish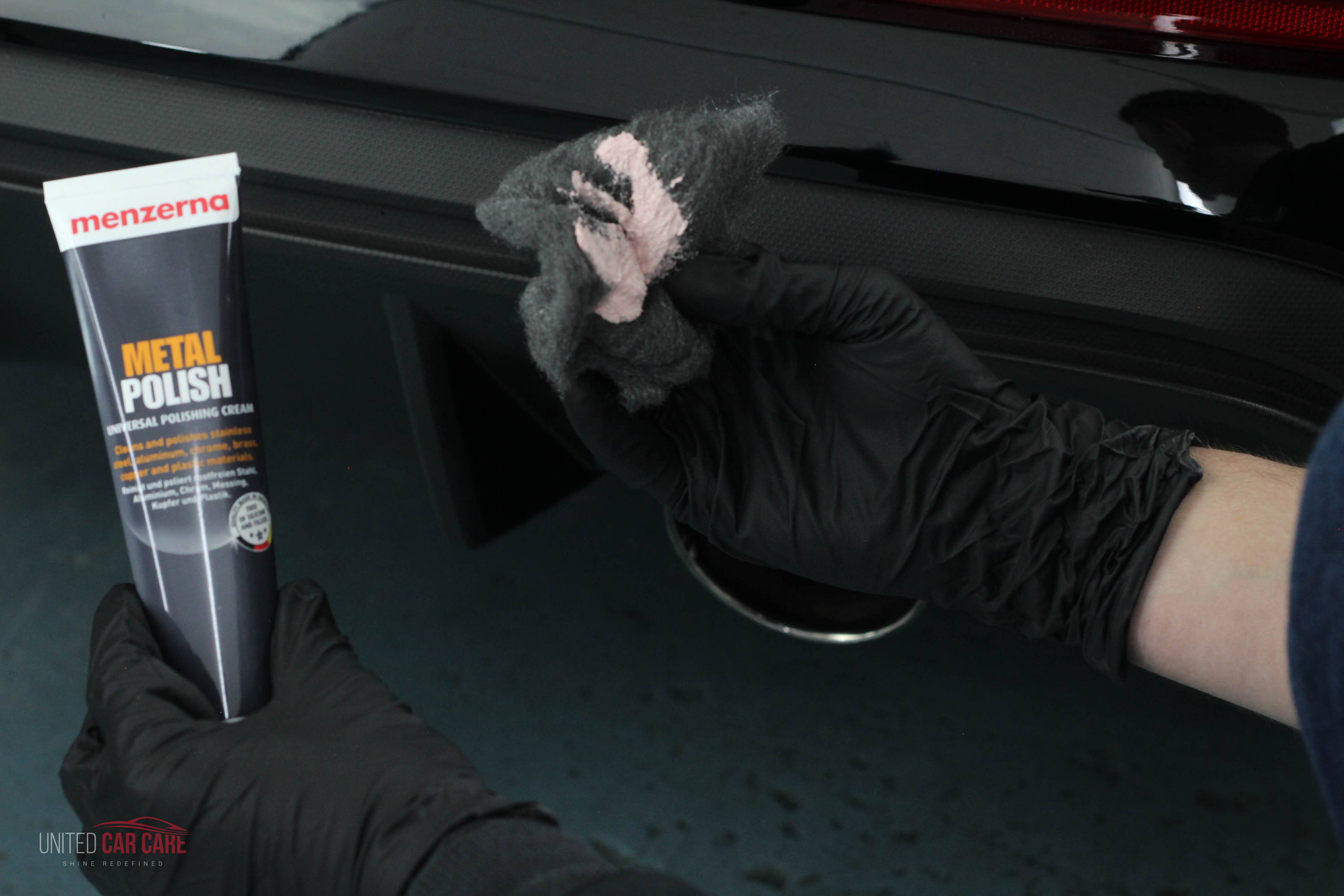 Exhaust Polishing:
Metal Polish Amount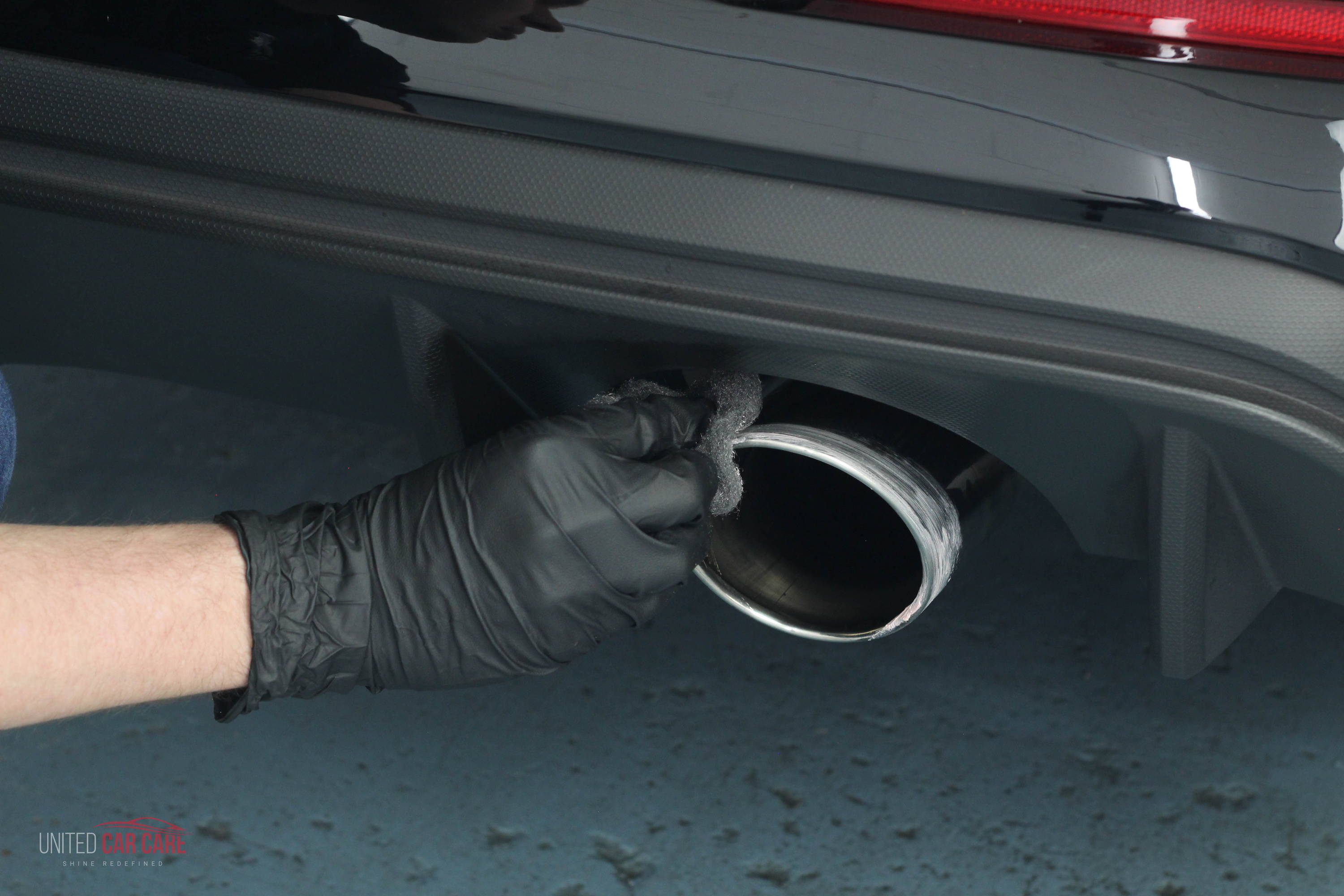 Exhaust Polishing:
Buff Exhaust Thoroughly
4) Grab the UCC Hybrid Detailing Towel (separate from the one you used in step 2) and wipe away all of the excess metal polish. Flip the towel to a clean side for a final buff. If carbon deposits and contamination still remains; repeat steps 3 and 4 until you achieve the result you are after.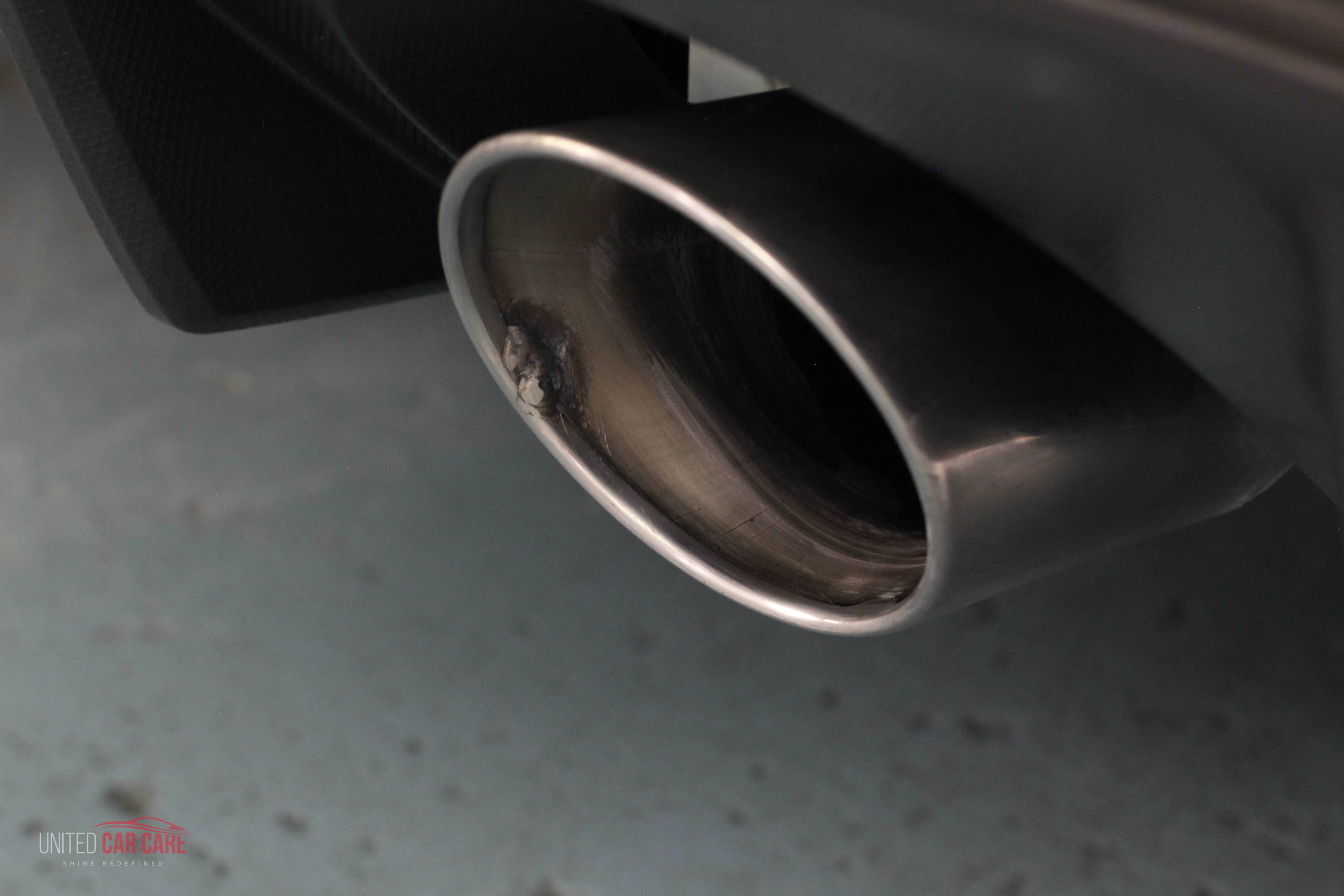 Exhaust Polishing:
Metal Polish On Exhaust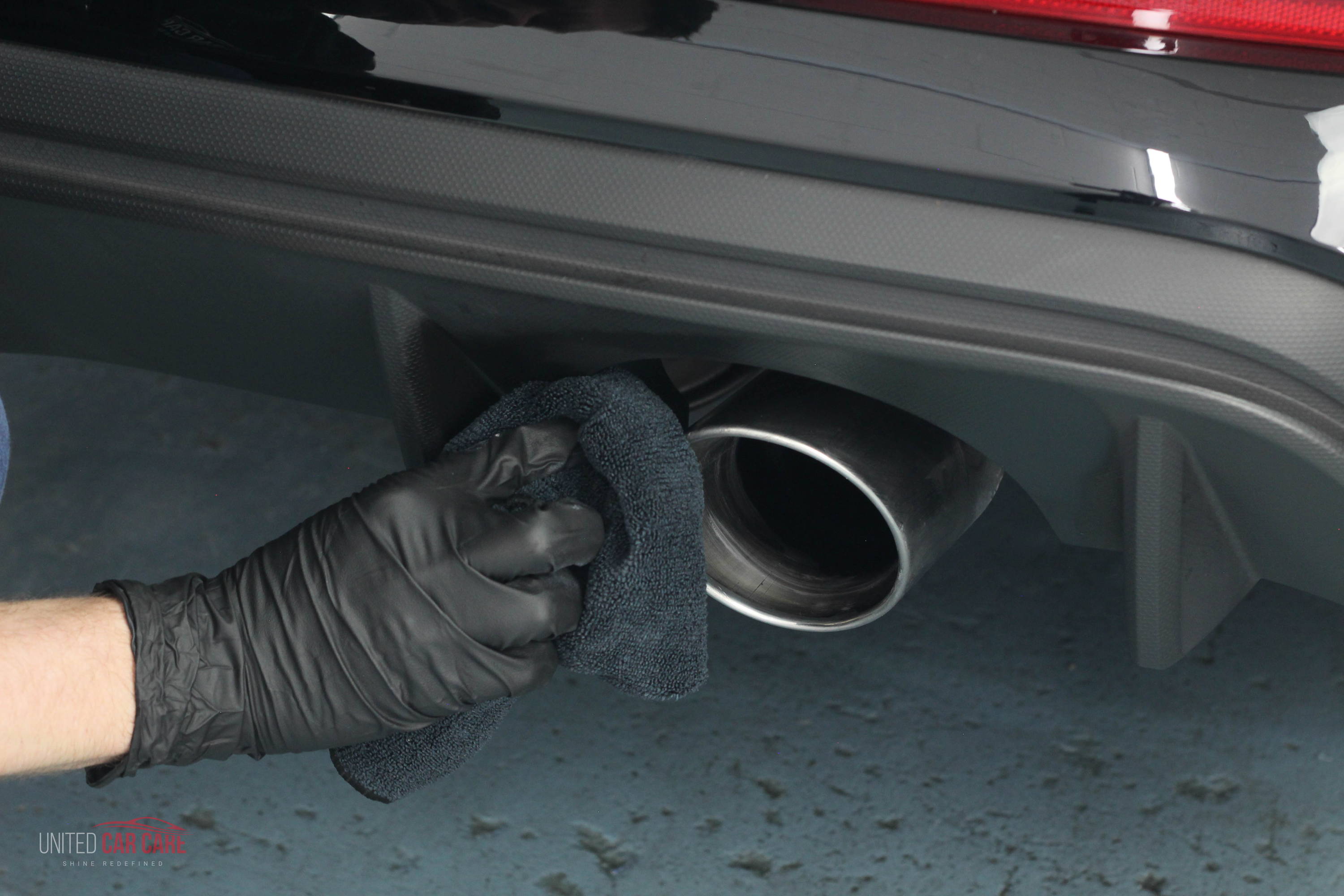 Exhaust Polishing:
Removing Metal Polish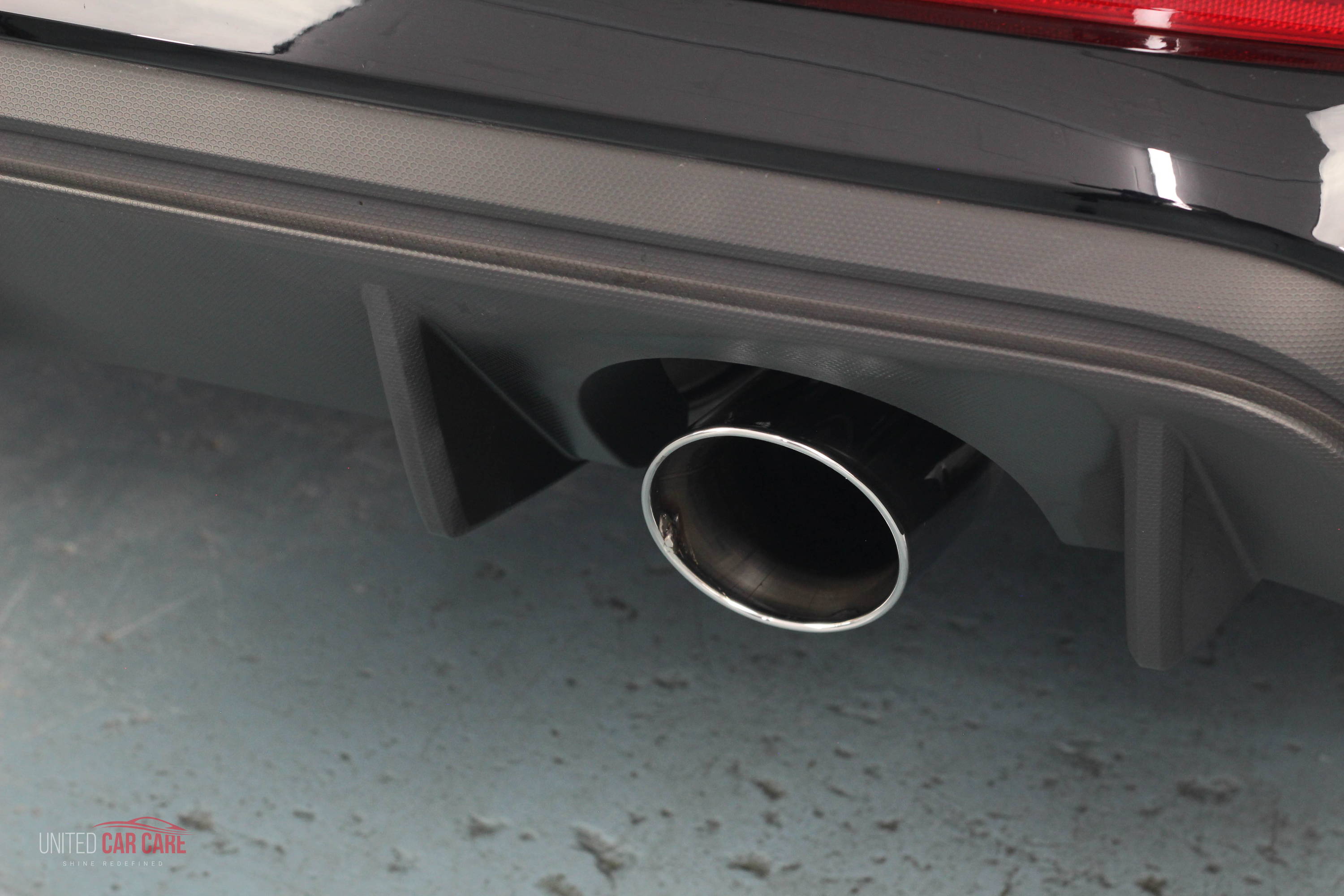 Exhaust Polishing:
After Removing Polish
UCC Extra Tips:
- Do not attempt this process if your exhaust tips are hot. Always wait for them to cool down first.
- For light grime you do not always need to use steel wool. If you keep on top of regular exhaust polishing (once a fortnight - once a month) - steel wool will become optional.
- Follow up step 4 with a good quality sealant such as Menzerna Power Lock or Fireball Nano Coat which will help to prevent build ups of future grime; and allow easier cleaning.
- DO NOT attempt this on painted exhaust tips, shadow black finished exhaust tips or 'fake' metals. This guide should only be used for true stainless metal exhaust tips.

Good stuff - Ive used it on exhaust tips and also motorbike parts with #0000 steel wool
Steve Engle - Menzerna Metal Polish
Everything you need to complete this how-to guide yourself can be found below. We love educating and assisting our customers - so for all other enquiries or help with other projects you have please don't hesitate to get in touch on our contact page.
---
Get everything you need from this guide in one handy kit - it's our Exhaust Tip Detailing Kit!
Includes $80.65 worth of product that we've discounted down to a much nicer $67.95.
Add to cart ➡ or see more here
Leave a comment
Comments will be approved before showing up.
---
Also in How-To Guides
Learn the art of detailing with United Car Care. We'll show you how to remove heavy yellowing and oxidation from your vehicles headlights!
We've been getting inundated with messages about the recent Auckland water shortages; but we thought it might be time to explain waterless and rinseless washing for you - no matter where you are in the country.